Powerful Airflow: 500 CFM powerful range hood are an integral part of every kitchen. It keep the air quality in your home safe. Range hood do this by collecting most of the emitted gases from cooking and leading them through an exhaust duct that vents outside or use charcoal filters remove harmful substances and odors. 3-speed (High, Mid, and Low) push button control.
Excellent Capture Ability: Convertible wall mount range hood comes with two stainless steel filters to absorb grease and smoke, you don't have to spend too much cleaning time, simply drop in the dishwasher for easy maintenance and cost savings. Two built-in LED lights can withstand extreme heat and will brighten up your kitchen.
Two Ventilation Options: Kitchen stove hood 30 inch features a top 6-inch ducted vent that does its job to perfection to ensures the hood has enough coverage to catch all the exhaust from the cooktop. Optional Carbon Filter Kit available for ductless, they can trap odors in the air and other invisible pollutants.
Adjustable Chimney: This range hood dimensions 29.3" W x 18.3" D x 36.3" H. Wall-mounted chimney-style installation perfect for various kitchen decors, adjustable range of chimney: 15.7 inch minimum, 30.7 inch maximum , this ducted kitchen exhaust fan hood fits 7.5-8.5 ft ceiling.
Whats In The Range Hood Box: IsEasy Wall Mount Vent Hood, 110-120V/60Hz, 36 inches long power cord with 3-prong plug, flexible aluminium ventilation hose, 2 pcs charcoal filters, 2 pcs washable baffle filters, user manual, accessories and screw pack, friendly customer service. If you have any problems with this ducted range hood, please kindly contact our customer service.
View full details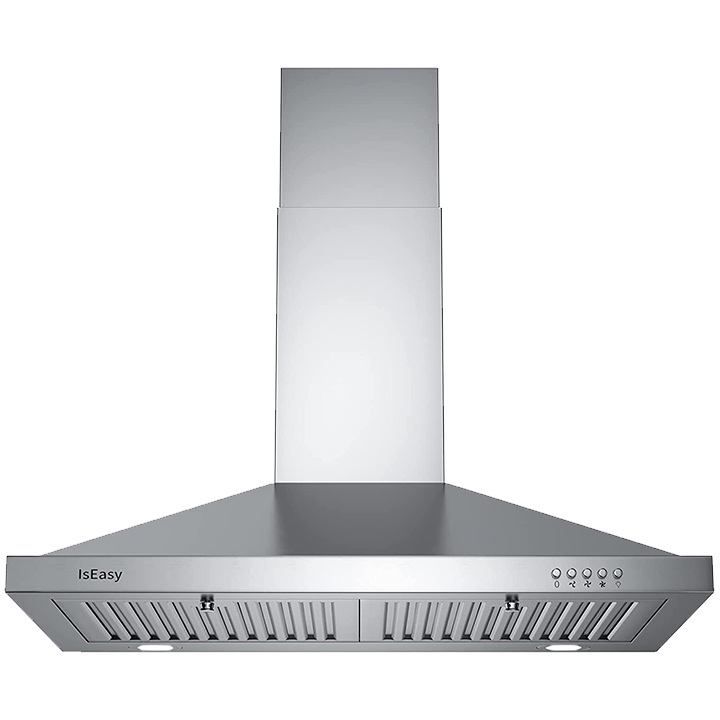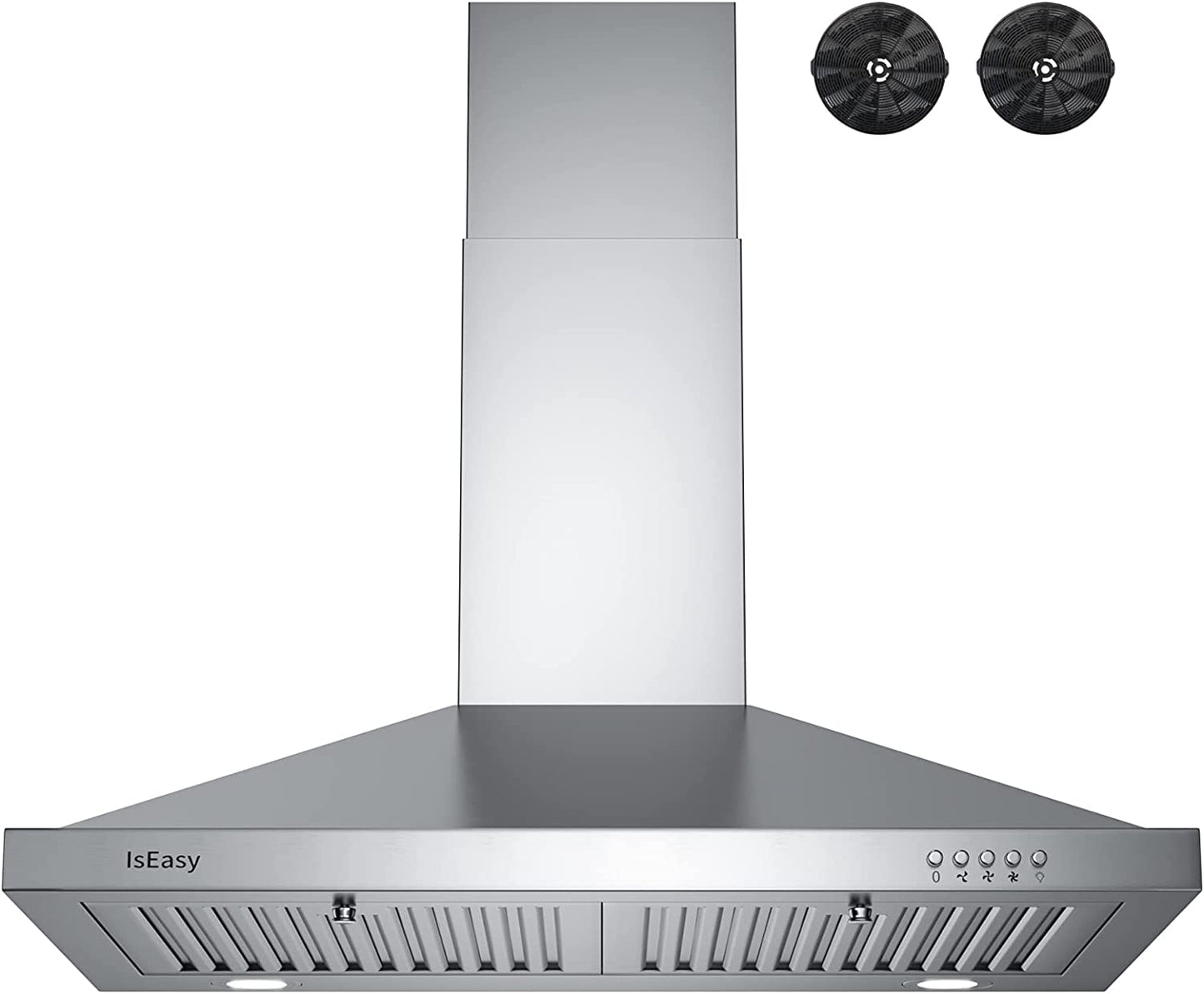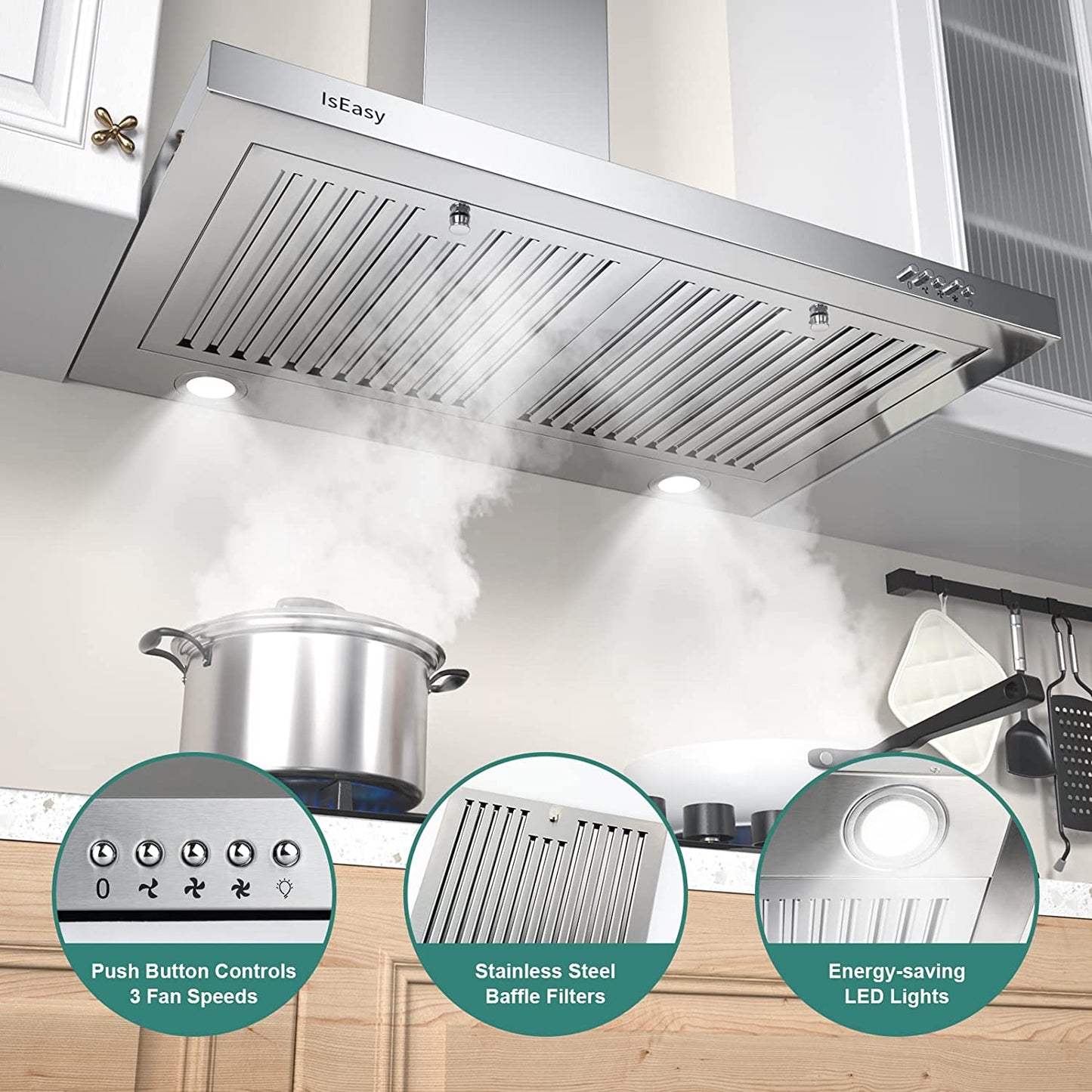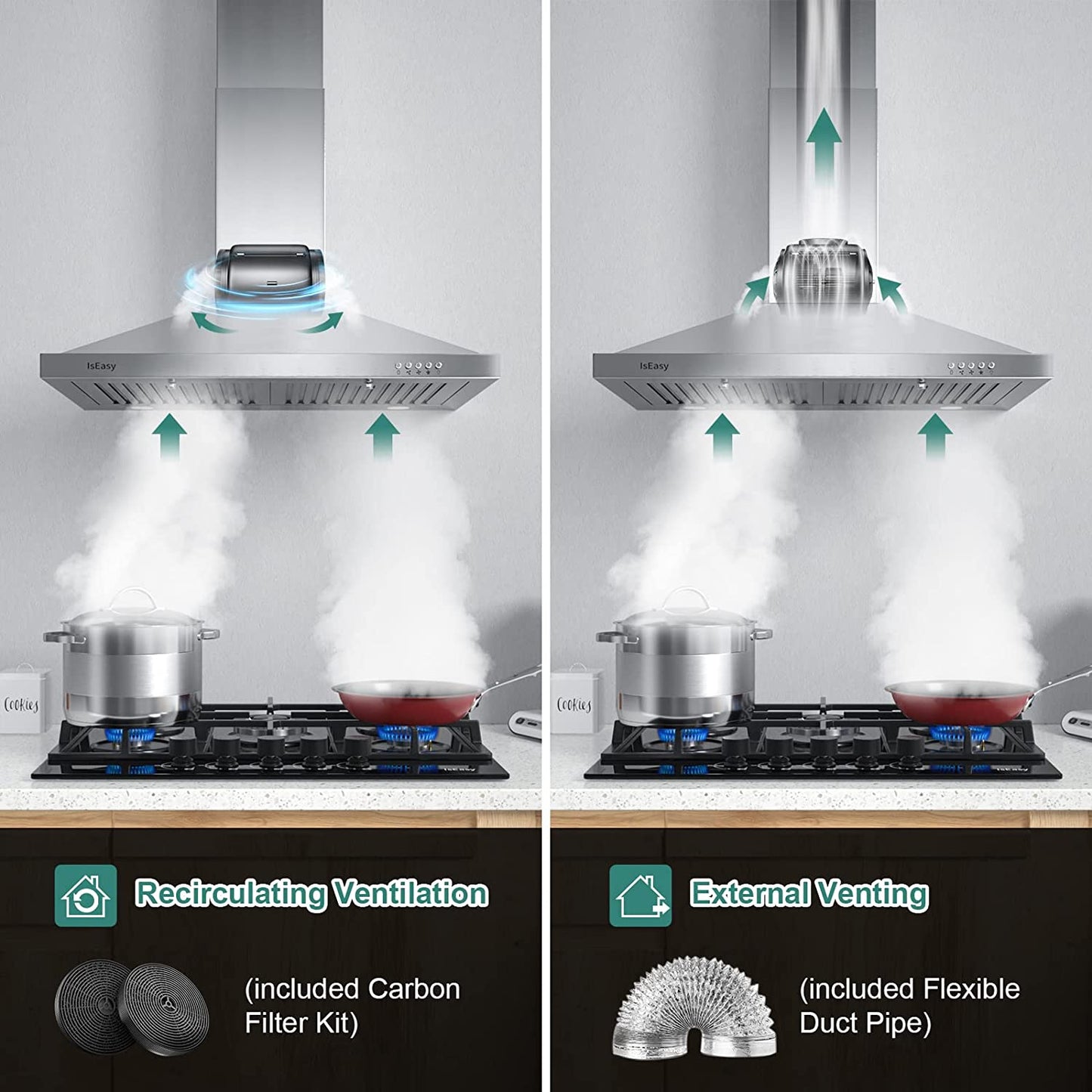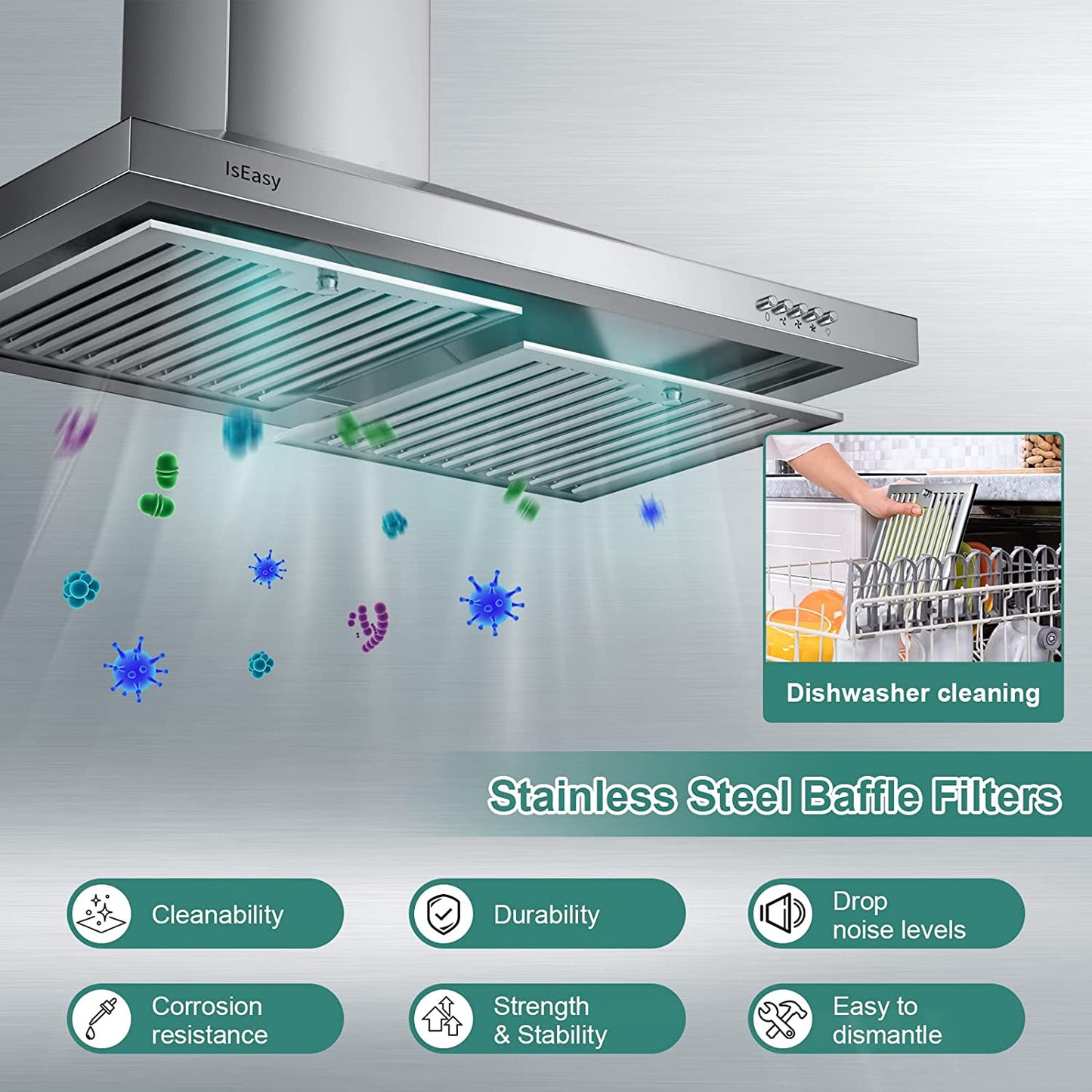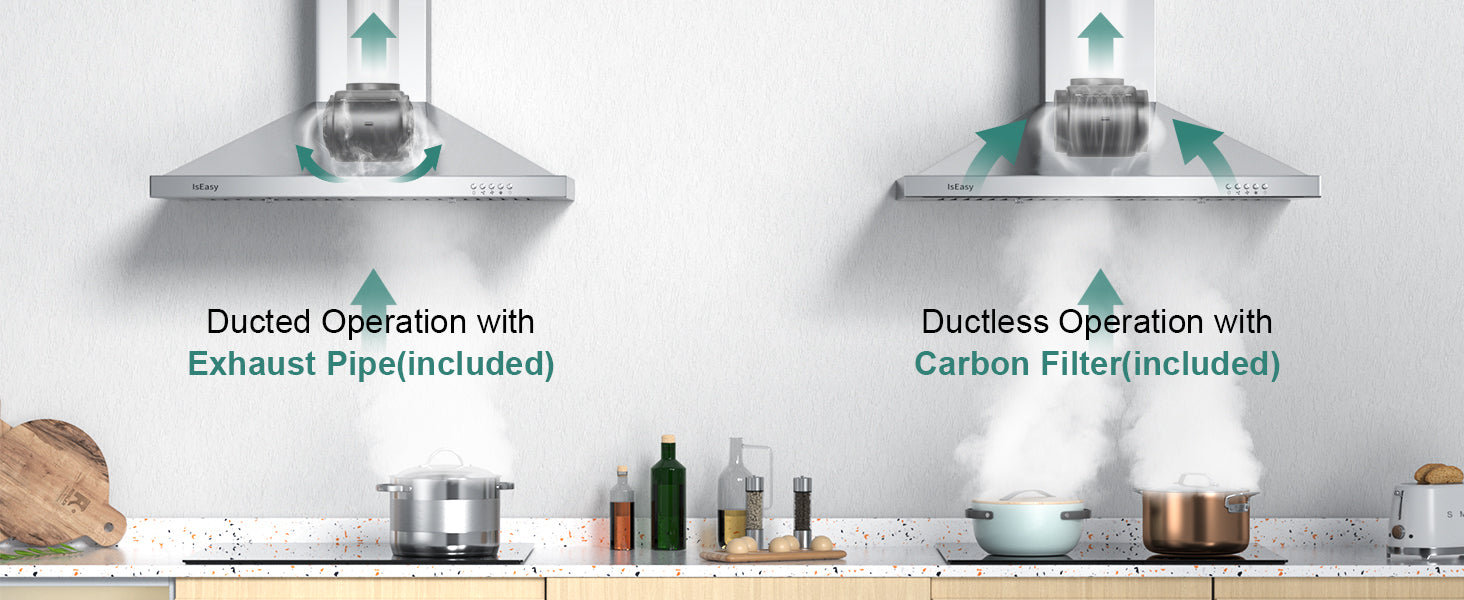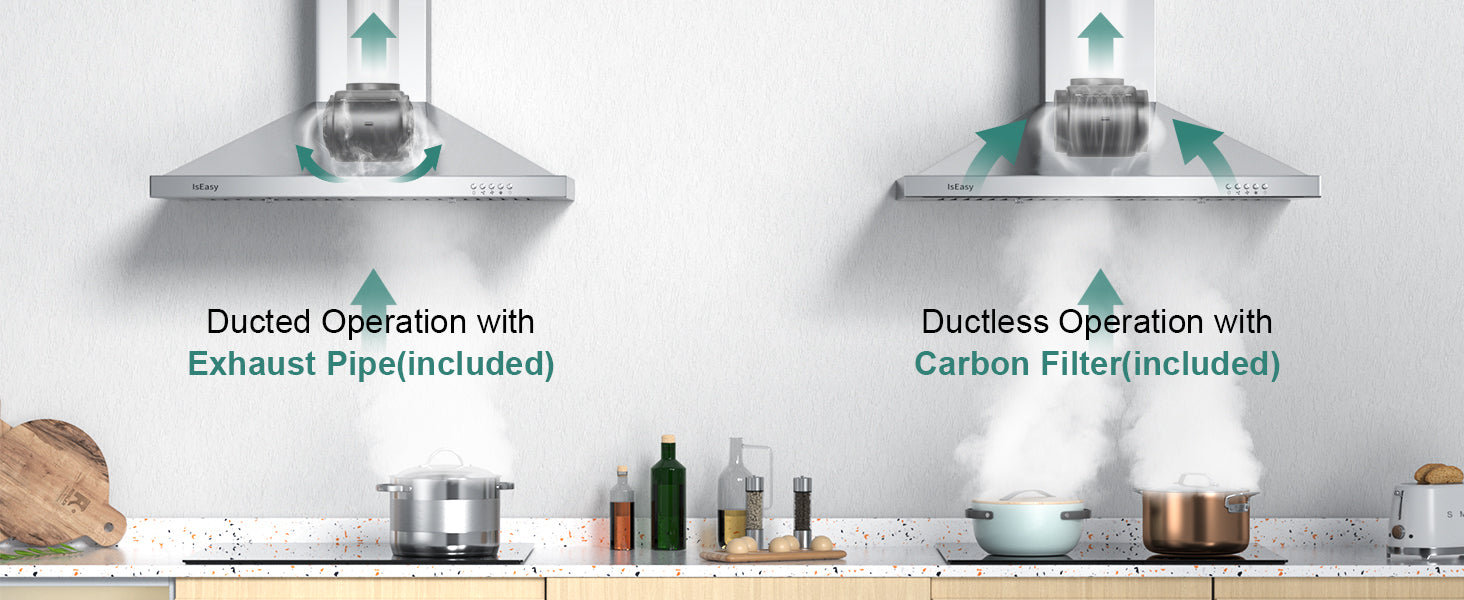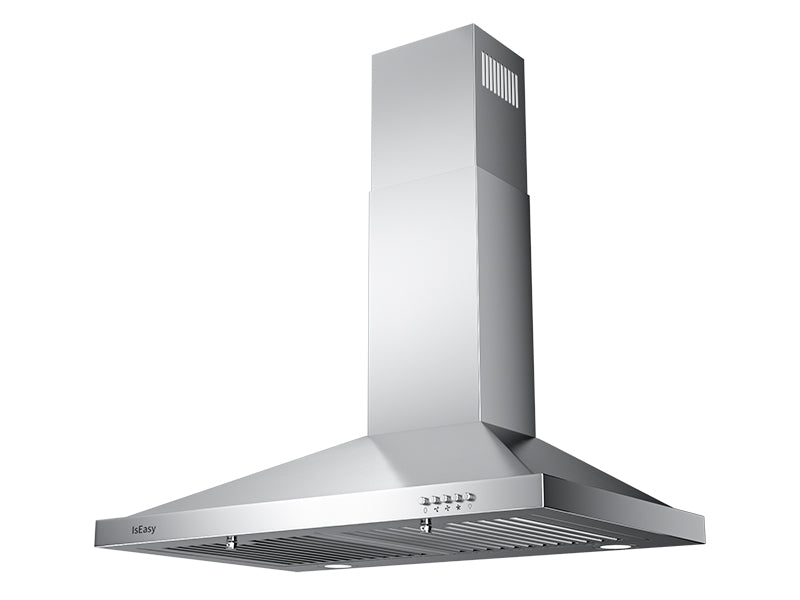 This range hood makes a beautiful addition to a cooktop.
Step 1: Measure your ceiling height (IsEasy kitchen hood adjustable Chimney can fit 7.5-8.5 ft ceiling)
Step 2: Measure your kitchen distance between the floor and the hearth cooktop (typical 36'')
Step 3: The best distance between the bottom of the hood and the cooking surface requires from 24'' to 30''
Step 4: This stove hood is 30" wide, if you install the unit into existing cabinet, please make sure the distance between both sides should be not less than 30".
BRIGHT ENERGY SAVING LAMPS
With the included 2 LED lightings, you can rest assured this is an energy saving solution to lighting up your cooking area with style. Mounted directly below the range hood, cook and see better in the dark.
3 SPEED PUSH BUTTON
With 5 push button controls on the panel, this vented 30" wall-mount chimney-style range hood gives you fully easy operation. You can get 3 speeds at the push of the sensitive button controls in one finger operation.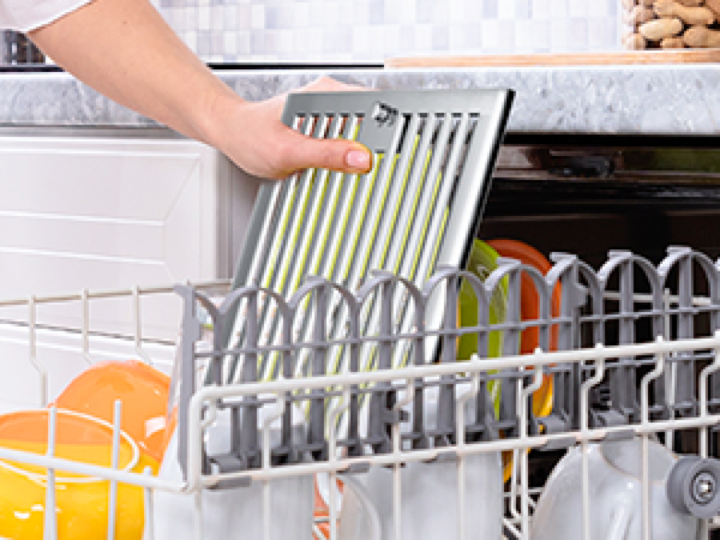 The Stainless Steel
Filters effectively removes grease and cooking odors. Also, being easily detached and dishwasher safe, it can always sustain its optimal efficiency.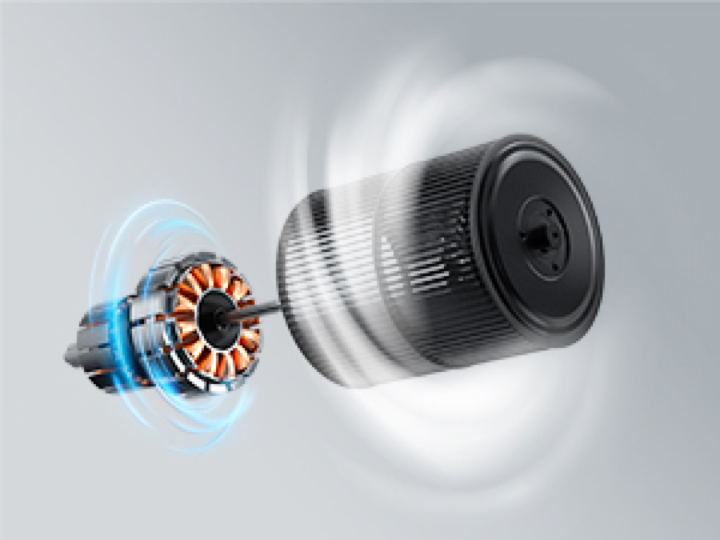 Permanently Lubricated Motor
Wall mount range hood with upgraded sturdy motor offers 500FM to freshen the air in your kitchen.
Ventilate Your Kitchen
IsEasy wall mount vent hood are designed to extract fumes, chemicals, and smoke from the interior of your home.
Package Including
1* Ducted Range Hood, Manual
1* Bag of screws, Flexible ducting, Wall bracket
2* Chimney brackets, Charcoal Filters
2* Fixing plates for chimney