600 CFM Efficient Airflow: This range hood insert 30 inch has 3 speed exhaust fan and brand new motor will effectively removes smoke and odors,leave your kitchen cleaner and fresher. Only 65dB max noise level; Ducted/ductless convertible range hood come with Charcoal Filter and Vent Hose.
Superior Multi-Layer Filtration: Stainless steel vent hood includes 2 matching dishwasher safe and easy removable stainless steel permanent filters to trap cooking grease and oil. Besides, there is a plastic box in the front of the motor for collecting excess oil.
Easy Control Button Panel: Classic mechanical push-button on the built-in range hood board always do a good job no matter it is above hot temp stove or control by wet hands. You can trust it to work no matter what time to use it.
Bright Energy Saving Lamps: This kitchen hood with 2 PCS changeable energy saving LED lamp, it means you can found in any local hardware store to change the light color and wattage when you need.
Whats In The Range Hood Box: IsEasy Built-in Range Hood, 120V/60Hz, 56 inches long power cord with 3-prong plug, flexible aluminium ventilation hose, 2 pcs charcoal filters, 2 pcs washable baffle filters, user manual, accessories and screw pack, 2 years warranty and friendly customer service. If you have any problems with this range hood, please kindly contact our customer service.
View full details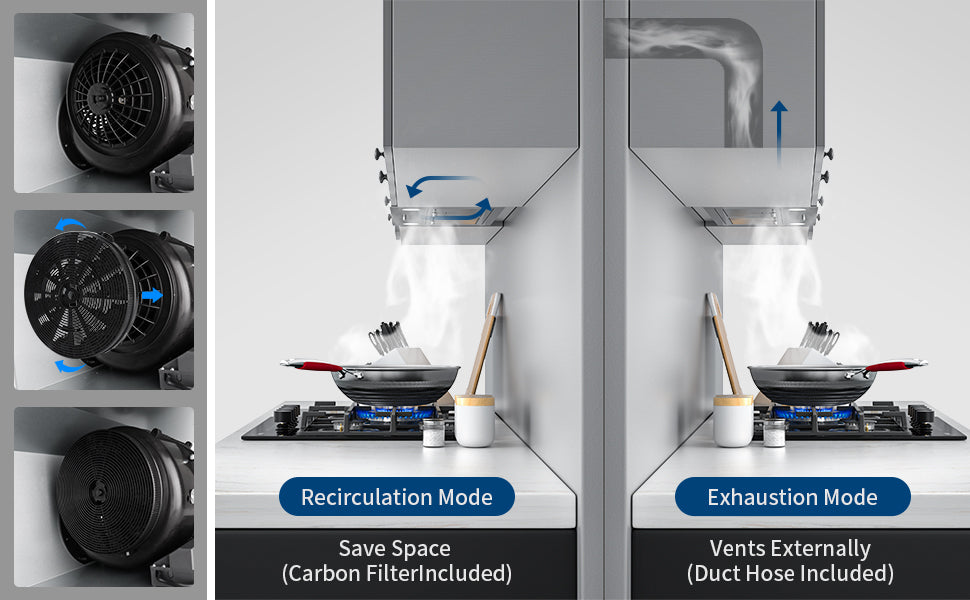 Extraction(Ducted Mode)
The 30 inch range hood should convert into ducted mode through the top ventilation hole, install the exhaust pipe which is included in the installation kit.
Re-circulation(Ductless Mode)
For ductless mode, install the carbon filter (sold separately) to the black vent hood. The smells and odors can be vented from the top ventilation hole. (exhaust pipe is not required.)
Dishwasher-Safe Baffle Filters
#430 stainless steel: With good corrosion resistance, can be used many years. This stainless steel baffle filter is designed with deep grooves to efficiently collect cooking grease. Its easy-to-remove and clean design allows you to reuse it forever just by putting it in the dishwasher.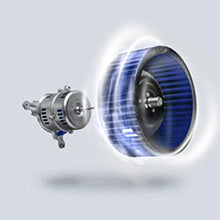 600 CFM Powerful Motor
Ductless range hood with a powerful motor is super durable & sturdy. Strong suction eliminates the disturbance of cooking fumes, and you can enjoy cooking in a fresh way, as the powerful airflow helps to effectively remove all unpleasant odors, steam and grease.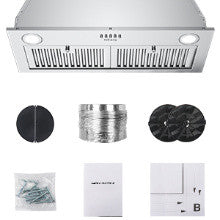 Package Contents
1 x Built-in Range Hood
1 x Flexible Aluminium Ventilation Hose
2 x Carbon Filter
1 x User Manual
Installation Parts and Screws
Trusted & Reliable
IsEasy presents a modern professional built-in range hood perfect for homeowners and builders with limited space. We have years of expertise in offering professional services and crafting high quality products, and we are committed to applying the most innovative technology to all of our designs, adding contemporary style to the superior functioning products that help make your house a home.